Do you ever think about death?
How does it make you feel?
When you think of death what do you feel?
Doesn't excite you, doesn't scare you, does it make you want to work harder or does it make you want to quit because the fact is that we are all going to die anyway?
I believe that a true revelation of death can be transformed into fuel for living a much more full and fulfilling life. I think of death daily… Maybe it's because I was blessed to have a death experience when I was 19 in Iraq or maybe it's just part of my personality.
I think of my death experience as a total blessing because it helped me realize how precious, fragile and fleeting my life truly is. Never mind the fact that everything is okay right now as I write this post, the reality to me is simply that things can change in an instant. The resulting truth that I must always strive to honor is simply the fact that I must do the most meaningful things with my life that I'm capable of with every breath that I am fortunate enough to be given.
The feeling I had when I thought I was dead was only crushing to my soul because I was so young and I knew that I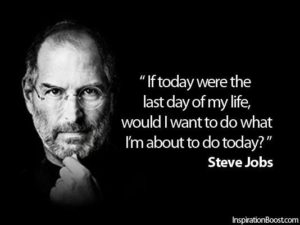 had lived with no deliberation. I knew that I had participated in an unlived life; I was drifting through life without a sense of purpose, without making any significant contributions to the world and without truly appreciating what I had. The realization of this was so powerful… It was the deepest sorrow I had ever felt and staring in the face of the possible infinite finality of death… There are no words to describe this feeling. All I can do now is do my best to encourage, inspire, and challenge all of you as well as myself. To realize that we all must die one day and until then, there's nothing more valuable, honorable and important to do then those things that your heart truly desires. Because when you're laying on your deathbed, it is truly the realization of the things that you didn't do that can make the weight of that moment soul crushing.
My goal is to do everything I can to help you avoid that feeling… And that is truly my contribution to the world. We are in this together, check out the video for more.