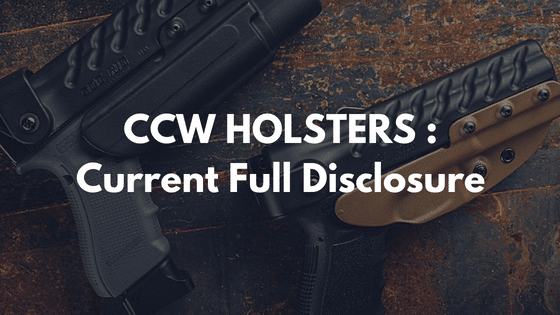 My top two favorite concealed carry HOLSTERS…
Where do I start?
The equation we all face of how to fit a hard steel tool like a gun into the contours of our bodies in a way that is both not noticeable and also comfortable is a quality problem Concealed Carry Weapon license holders face. While there are many ways to skin this cat, my experience has led me to appreciate two brands specifically and since I get asked this question all the time, I figured I would simply put my findings here in this blog.
Personally, I'm not a fan of soft holsters… Just my opinion but you do you!
1. Soft holsters
CONS
Difficult to re-holster -When the whole string with a soft holster things can get precarious and even dangerous because the holster loses its form without the weapon inside of it. This means that you will almost definitely have to use the weapon itself to clear its own path back into the holster. If anything gets stuck in your trigger guard during this process, you will almost definitely shoot yourself.
Odor – because these holsters are made out of porous materials, they can begin smelling like old football pads after being use frequently.
The draw from these holsters doesn't seem to be as crisp in my opinion.
No positive "click" when pistol is reinserted back into position
PROS
I found more concealability with my soft holster
A bit more comfortable
2. G-CODE INCOG ECLIPSE & SHADOW (https://www.tacticalholsters.com )
This is simply one of the most comfortable and versatile holsters I have ever had. The kayaks and plastic nature of the holster gives your weapon that secure fit it needs and crisp runway that contributes to a clean and fast draw every single time. No matter what the temperature or conditions or even the position your in when drawing, this holster will not let you down in its functions because every single draw is exactly the same. Additionally the holster has the added benefit of "TACTICAL FUZZ" which makes the holster one of the most comfortable holsters I've ever experienced. The only thing I wish this holster had was the additional lever designed to push the butt of the pistol back over my belt and into my stomach more for added concealment. Overall this holster, however, has proven to be one of my favorites over the years with its many different applications because of its above-mentioned versatility, dependability and comfort.
3. T-REX: LIGHT COMPATIBLE RAPTOR ( https://www.trex-arms.com/product-category/holsters/ )
The evolution of the T Rex holsters mentioned in my video really just depends on the preferences of the shooter. Some people genuinely prefer the single fat clip over the style I mentioned that I favor in the video. There are many different ways to skin this cat but one thing I can say with confidence is that the holsters I bought from this company have been high-quality and have definitely been good enough to make this company one of my favorites with regards to concealed carry holsters.
At the end of the day, I can't really tell you which holster is my favorite or if any of the above-mentioned holsters is truly the one holster that will rule them all for me or you. Ideally, someday I'll find that holster that has the loved and coveted TACTICAL FUZZ as well as the lever/raptor claw to push the holster back into my waistline for added concealment. That company may very well already be out there but I just haven't found them yet so if you do know of a company doing this, please don't hesitate to direct message me or send me an email. I am very pleased with the gear I'm using but the journey will always continue.
I would Love to get your thoughts and feedback on all of this and please feel free to fire away with any questions underneath the video on YouTube or around any of the posts on my Facebook or Instagram pages, you can also reach me via email after joining my mailing list.  You can find a way to join the mailing list on the sidebar of the website. I promise never to spam you and only to let you know when I have upcoming live hangouts.  God bless and Semper Fi!