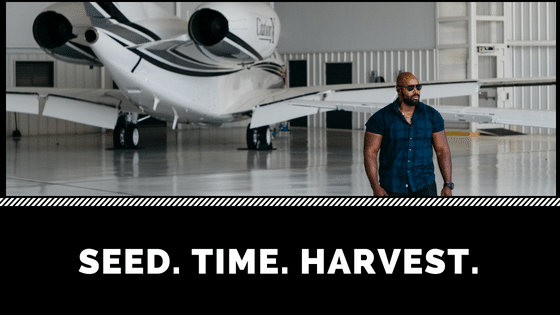 Enjoy these selected quotes from this power-packed video!
It's unfortunate but it's real about our world and our reality that everything we're able to have is so quick and so easy! It's beautiful but if we pay too close attention to it we can lose or miss out on the reality of principles that govern this experience and those principles are SEED, TIME AND HARVEST.
So I say that, to everything that is of value that there is an appropriate process of transmutation that must occur in order for more value to be added.
You see in your mind's eye a REALITY, you see in your mind's eye something that you want, something that you need to feel in your life, something that you wanna express in your life on a higher level.
You have this organic intrinsic value to you right now, that means that you can cultivate enough ability to eventually do that but right now who you are, that ability hasn't been cultivated, that strength hasn't been added to you because you haven't done the thing to have that POWER.
I wanna try to get you to fall in love with the work that's necessary to unlock your greatness because it is literally that work that separates us.
It is the work of you stepping into that process of your purification, the process of your transformation, and the process of your own evolution that's gonna separate you in this life
A beam of steel has got to get beaten, it has to go through the fire, the water and has to be perfected to become a SWORD
From the ground, you can see the mountaintop but what I want you to pay attention to, is the process of climbing the mountain because THAT is where you're gonna live your life.
When you get to the mountaintop that you were lusting for, what you're gonna realize is that it's just another mountaintop!
Your life is about the process, the process is what that makes you. A process is what that shapes your character.
Your processes are your glory, they are conditioning you to hold up under the burden of your blessing and of your glory.